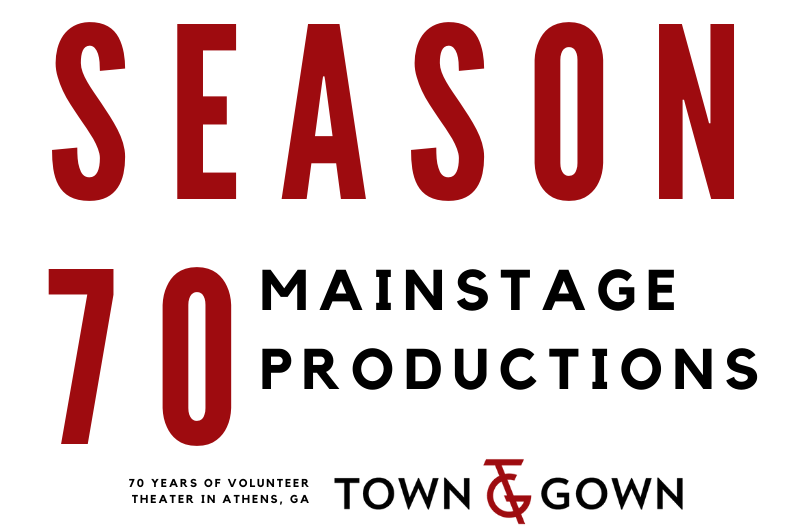 Main Stage Season
Sister Act
Show Dates: September 30 – October 2 and October 6 – 9
Music: Alan Menken
Lyrics: Glenn Slater
Book by: Bill and Cheri Steinkellner, and additional material by Douglas Carter Beane
Directed by Harriet Anderson
Musical Direction by Rachel Townes
Singer Deloris Cartier is waiting for her big break. But when she witnesses a murder, she decides it's best to step out of the limelight. What better place to hide than the convent of The Holy Order of the Little Sisters. And while the sisters give Deloris the support she needs, Deloris gives them something new to sing about. Based on the hit film, this is a Divine musical comedy!
Murder on the Orient Express
Show Dates: December 2-4 and 8-11
Story by Agatha Christie
Adapted by Ken Ludwig
Directed by Derek Adams
All Aboard for Murder! Based on the classic Agatha Christie novel, Ken Ludwig's adaptation gives us a ticket onto the famous train when a man is found dead and a snowdrift stops the locomotive in its tracks. Detective Poirot must uncover each passenger's secrets to find the killer before he or she strikes again!
Much Ado About Nothing
Show Dates: February 10-12 and 16-19
Written by William Shakespeare
Directed by Christine Carpenter
Claudio loves Hero. Hero loves Claudio. Benedick loves…Benedick? And Beatrice loves banter! The boys are back from the war, and love is in the air. Watch one of Shakespeare's most famous couples duel with words and wit in this beloved romantic comedy!
Red Herring
Show Dates: April 14-16 and 20-23
Written by Michael Hollinger
Directed by Nick Ciarochi
Spies! Murder! Fish? It's 1952, America's on the verge of the H-bomb, and Senator Joe McCarthy's daughter just got engaged to a Soviet spy. Set at the feverish height of the red scare, Red Herring is a surprising, sexy, and hilarious noir comedy about love, lies, and other megaton explosives.
25th Annual Putnam County Spelling Bee
Show Dates: June 16-18 and June 22-25
Conceived by Rebecca Feldman
Additional Material by Jay Reiss
Music and Lyrics by William Finn
Book by Rachel Sheinkin
Directed by Drew Doss
Musical Direction by Justin Sanders
The middle school spelling bee is a terrifying memory for many. But when you add singing and dancing and put it on stage, it becomes H-I-L-A-R-I-O-U-S. Come see six quirky contestants (and perhaps a few audience members) vie for the crown in 25th Annual Putnam County Spelling Bee.
Last Summer at Bluefish Cove
Show Dates: August 11-13 and 17-20
Written by Jane Chambers
Directed by Richard Chaney
Lil and her female friends have been coming to the cove for years. But how will they react when a woman fleeing her marriage stumbles into their vacation colony? A classic written in 1980, this is the first mainstream play to look at the diversity of Lesbian lives.
Season Flex Passes
Ticketing questions? Email seasontickets@townandgownplayers.org
A standard Season Flex Pass entitles the purchaser to six Main Stage tickets for the price of five, plus four Second Stage tickets for the price of two. The Thursday Night Special Flex Pass entitles the purchaser to six Main Stage tickets at a deep discount, but these tickets may only be redeemed for Thursday night performances. With all of our Flex Passes, you choose whether to see every show or redeem multiple tickets for the same show, and in addition to the straight savings over purchasing tickets individually, you'll never pay ShowClix service charges when reserving your tickets, either. This is the ideal way to enjoy Town & Gown performances all season long for less!
The cost for a Season Flex Pass is $85 for Students, Seniors, and T&G Members, or $110 for Adult non-members. The cost for a Thursday Night Special Flex Pass is $50 for everyone. Flex Pass codes will be sent to you by email. Please provide a valid email when purchasing to ensure you receive your code.
For more information, email seasontickets@townandgownplayers.org.